INAUGURATION OF GHORASHAL-POLASH UREA FACTORY BY HONORABLE PRIME MINISTER SHEIKH HASINA
INAUGURATION OF BANGABANDHU SHEIKH MUJIBUR RAHMAN TUNNEL BY HONARABLE PRIME MINISTER SHEIKH HASINA
INAUGURATION OF BANGABANDHU SHEIKH MUJIBUR RAHMAN TUNNEL BY HONARABLE PRIME MINISTER SHEIKH HASINA
100th ANNIVERSARY OF FIRST BENGALI LADY DOCTOR DR. KADAMBINI GANGULY
93RD BIRTH ANNIVERSARY OF BANGAMATA SHEIKH FAZILATUNNESA MUJIB
INTERNATONAL STAMP EXHIBITION "BANGLADESH 2023" SPECIAL COVER
74TH BIRTH ANNIERSAR OF GREAT FREEDOM FIGHTER MARTYR CAPTAIN SHEIKH KAMAL
20 YEARS OF INTRODUCTION OF STAMP DAY (2003-2023) SPECIAL COVER
50 YEARS OF RECEIVING "JOLIOT-CURIE" PEACE MEDAL BY BANGABANDHU SHEIKH MUJIBUR RAHMAN
WORLD TELECOMMUNICATION AND INFORMATION SOCIETY DAY 2023
Latest Bangladesh Stamp Issues​
YOUTH IN PHILATELY
In order to find and assist the best and brightest prospective philatelists, Echo's Phila house established the young philatelic leader's fellowship programme in 2023.
POSTAL RATES IN BANGLADESH
An incredibly significant and long-needed almost full tabulation of postal rates for Bangladesh. Includes all relevant and significant weight classes, as well as all destination categories and mail types. Include parcel rates.
THE HOWARD COURTNEY BANGLADESH STAMP CATALOG:
The R. Howard Courtney Bangladesh Stamp Catalog is an essential tool of Bangladesh philately and stamp collecting. Bangladesh Stamp catalogues are part of philatelic literature.
BANGLADESH PHILATELIC LEARNING CENTRE (BPLC)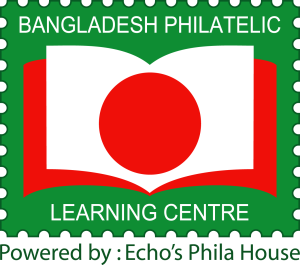 Stamp collecting is a fascinating pastime that provides access to art, history, and camaraderie. Stamps frequently represent our varied culture, values, and customs in addition to serving as a simple reminder that the postage rate has been paid.
ECHO'S PHILA HOUSE WORK FOR BANGLADESH COLLECTORS' COMMUNITY