The SERVICE overprinted stamps are difficult to sort out due to similar images, various sizes, redrawn images and the fact that all the definitives were not overprinted. The Bradbury and Asher printings have many of the same images, but not all. The Asher stamps are smaller than the Bradbury, but that does not often help when you are seeing an image on the internet and they are not fully described. One does not know what printing the stamp comes from. Luckily, the Harrison stamps are easy to identify as the images are different and the design is fairly consistent. The Kniga printing is also easy to identify as the images are difficult to understand, many images and the paper and ink are dull in appearance and the stamps are not very appealing. Most of the overprints are in English, but there are a few in Bengali The Security Printing Corporation of Bangladesh stamps are similar to the Kniga printing but many have the overprint in Bangla, but there are a few in English.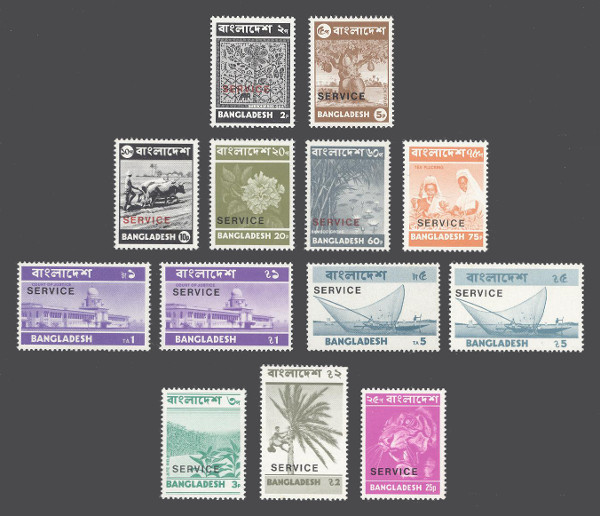 30 April 1973 - SERVICE overprints in red or black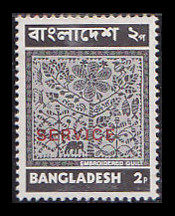 2p. Embroidered quilt – black. (Red overprint) a. imperforate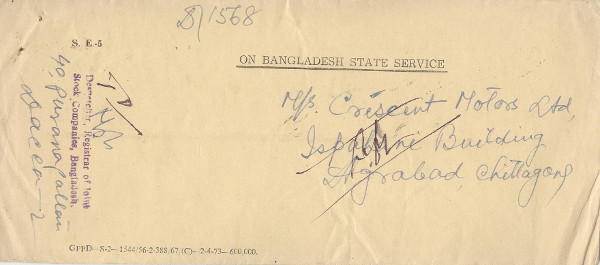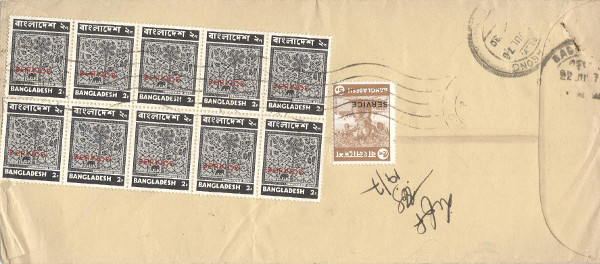 The above cover has ten 2p. and one 5p. of the Bradbury SERVICE overprinted stamps on it. The cover was mailed on the 22 July 1976 from Dacca to Chittagong. The enclosed letter stated that the Crescent Motors did not file the appropriate documents for 1971 – 1973 and the filing fees were not paid. They are given two weeks to explain why proceedings should not be instutited against the company and it's officers to enforce penal provisions.

Color Control Marks:No
Plate Number:No
Imperforate: Yes, but not issued.
No. of stamps in each sheet: 100
Quantity of stamps printed: Unknown
Designer: Unknown
Printer: Bradbury, Wilkinson & Co, Ltd., UK
FDC: At least one cover is known to exists with the 2p, 5p, 10p, 20p, 60p, 75p, Tk.1 and Tk.5 values only. (Unofficial)
Pmks: Philatelic Bureau, Dacca G.P.O. (black)
Insert: None
Additional: The Tk.1, Tk.2 and Tk.5 values were later redrawn and overprinted SERVICE, with the "Ta" expressed in Bengali, rather than English. See beginning of 1974 for the Tk.1 (74-1s) and Tk.2 (74-2s) and the beginning of 1975 for the Tk.5 (75-1s). The Tk.10 redrawn stamp was not overprinted.
Numerous misperforation varieties can be found in most of the SERVICE overprinted stamps of Bangladesh.
Imperforate darker essay with a larger SERVICE ovpt.
An imperforate essay exists for the Tk.1 Court of Justice stamp with SERVICE slightly larger.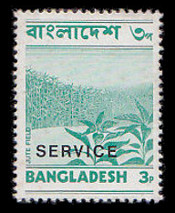 3p Jute field – bright green a. imperforate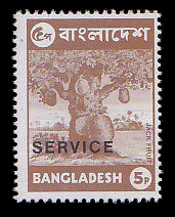 5p Jack fruit – light brown a. imperforate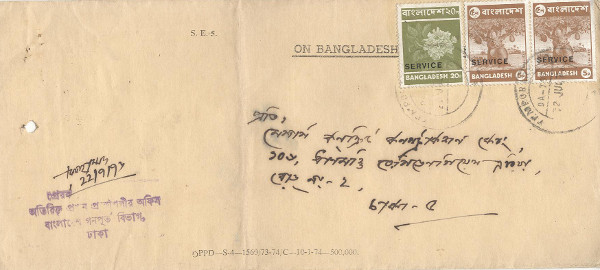 This cover, bearing two 5p and one 20p stamps was mailed on 22 July and received on 23 July 1976.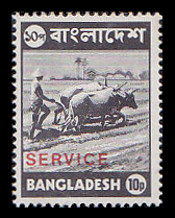 10p Plowing field – black (Red overprint) a. imperforate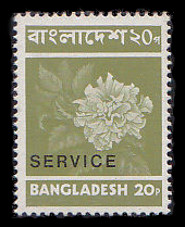 20p Hibiscus flower – olive a. imperforate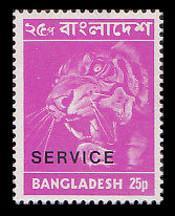 25p Tiger – rose-lilac a. imperforate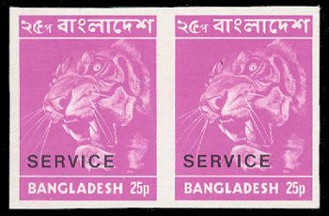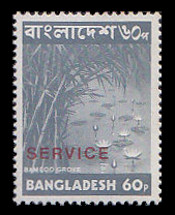 60p Bamboo grove – gray (Red overprint) a. imperforate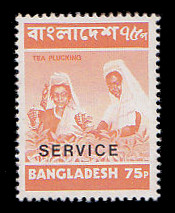 75p Women picking tea – orange a. imperforate
Tk.1 Court of Justice – violet a. imperforate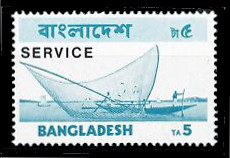 Tk.5 Net fishing – light blue a. imperforate 10 Stamps
1974 - Redrawn High Values with value in Bengali, replacing English and issue of Tk.2 stamp in Bengali.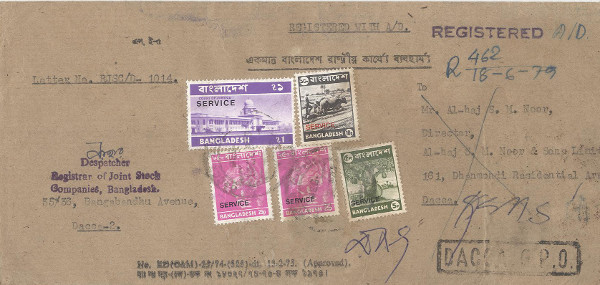 The above cover has the reprinted Tk.1 purple stamp, printed by Bradbury, but the other stamps are all the Ashur printing. It was mailed on 13 (Postmark on the reverse) June and received on 19 June, but the person was not there and it was returned on 23 June 1979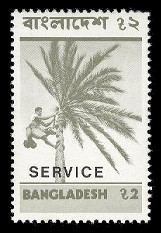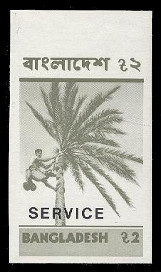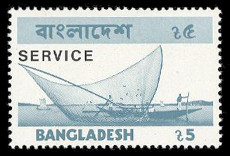 Tk.5 Net fishing – light blue
a. imperforate
3 stamps.