Date of Issued: 6 November 1978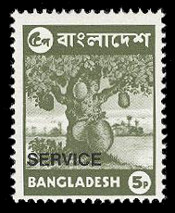 5p Jack fruit and tree- green a. imperforate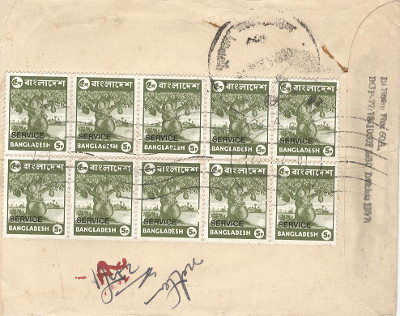 This cover was sent on 12 January 1982 to an individual in Dacca.

The printing variety with the CCM and the additional CCM due to the black SERVICE overprint.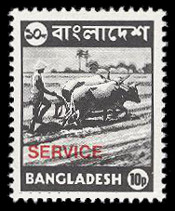 10p Plowing field – black (Red) a. imperforate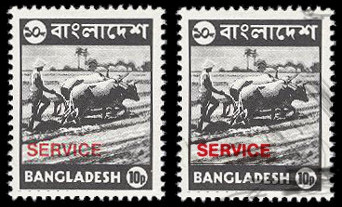 On the right is a scarce overprint that has thicker letters than the original overprint. This used stamp is obviously from a later printing.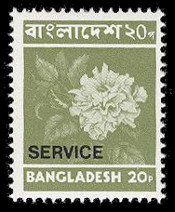 20p Hibiscus flower – olive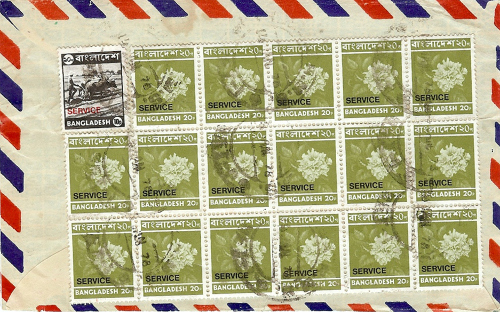 The above cover was mailed on 14 Jan. 1978 from Bangladesh to Poole, England.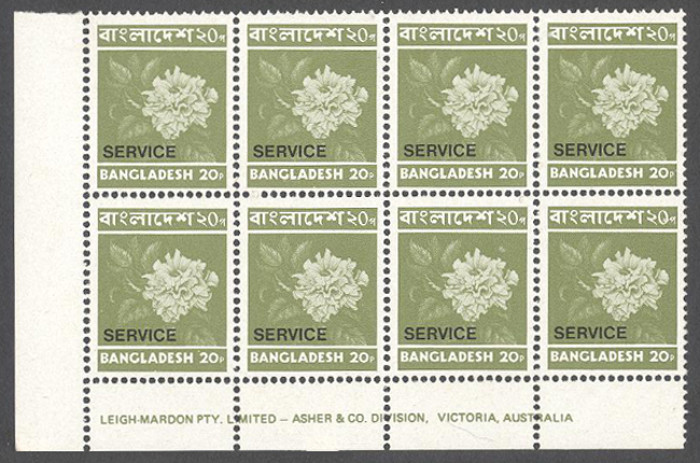 This printing did not have the CCM.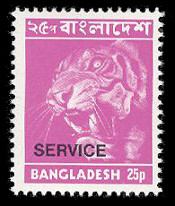 25p Tiger – rose lilac a. imperforate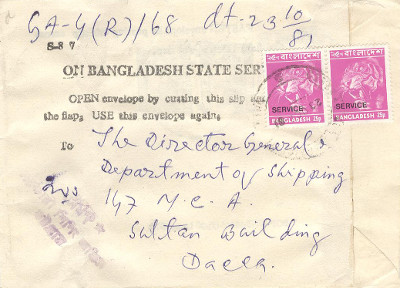 This cover was mailed on 23 October 1981 in Dhaka, and arrived the following day on 24 October 1981.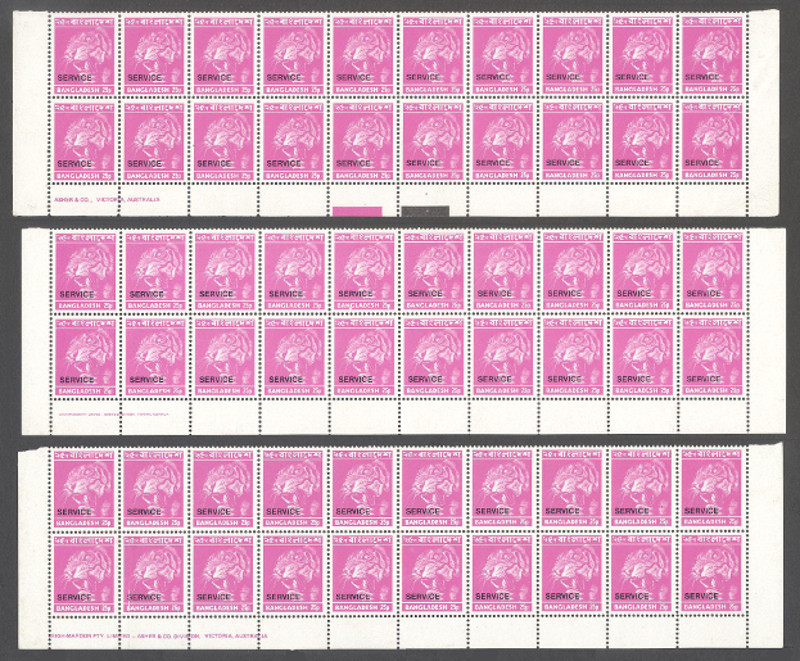 Three different printings of the Asher 25p Tiger stamp with the SERVICE overprint. Note that there is now an additional CCM on the sheets of one of the printings. Evidently, only the printing that showed the CCM for the regular definitive has this additional black CCM for the SERVICE overprint in black. The other printings do not show this.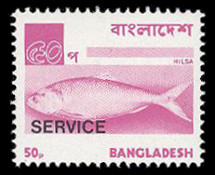 50p Fish (Hilsa) – rose lilac a. imperforate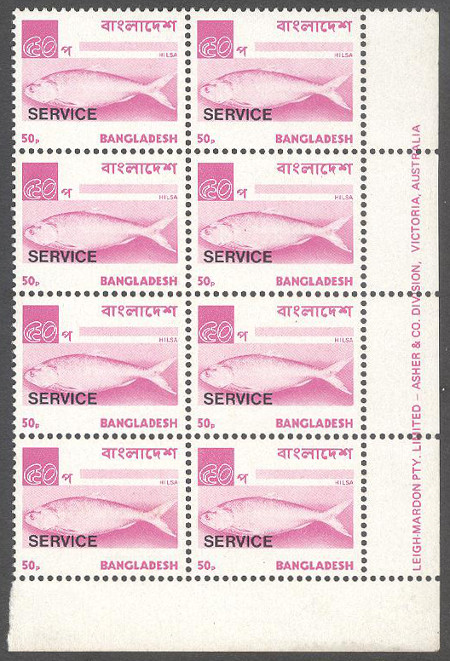 It seems odd that this stamp, which is basically a horizontal format, would have the name of the printer vertically. This variety of the name listing for the other stamps did not have a CCM and therefore it must be assumed it didn't for this value as well.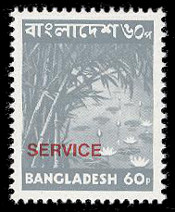 60p Bamboo grove – gray (Red)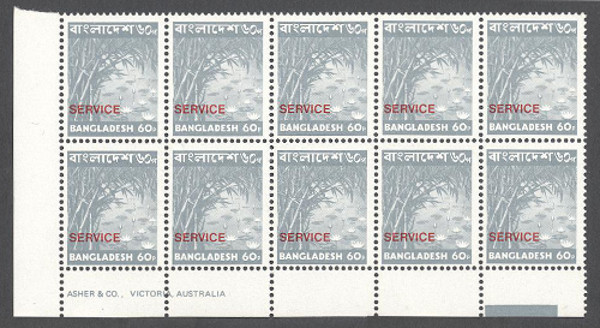 The top printing is the one with the CCM on it. Whoever saved this pane of stamps did not save the stamps on the right, directly next to the gray CCM. If they had, a red CCM would have been visible because the SERVICE overprint on this stamp was in red. The bottom printing is one of the ones without the CCMS.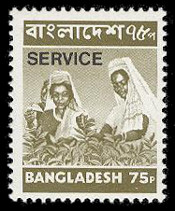 75p Women picking tea – olive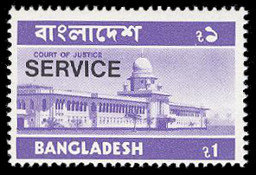 Tk.1 Court of Justice – violet a. imperforate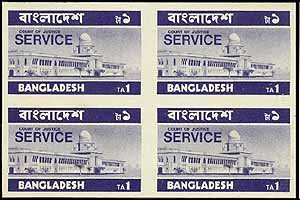 This imperforate block of four was a design submitted by the Asher Company to the Government for the proposed design of the Tk.1 stamp. All of the other submitted designs for the SERVICE overprinted stamp were accepted as submitted. This sample design was not accepted and the color, size of the stamp and the size of the SERVICE was changed. Copies of this submitted design is found on some philatelic covers. For years the author had thought this was a Bradbury essay and listed it as such. Later, collectors in Bangladesh provided the information above, that it was an Asher design.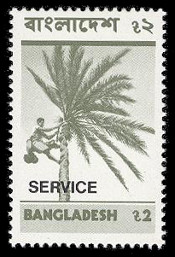 Tk.2 Man climbing palm tree – green-gray a. imperforate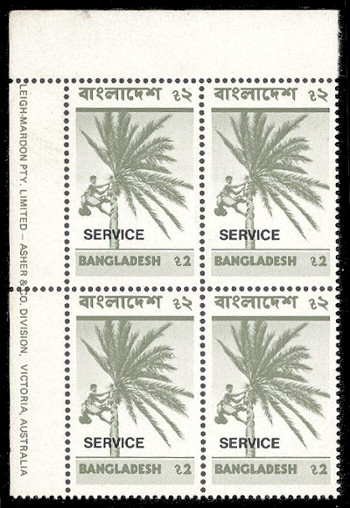 This sheet had the name of the printer in a vertical position. This layout of the name of the printer matches the layout on other sheets and they do not have a CCM on them.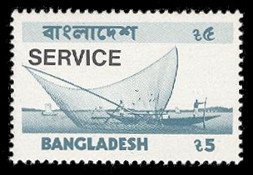 Tk.5 Net fishing – light blue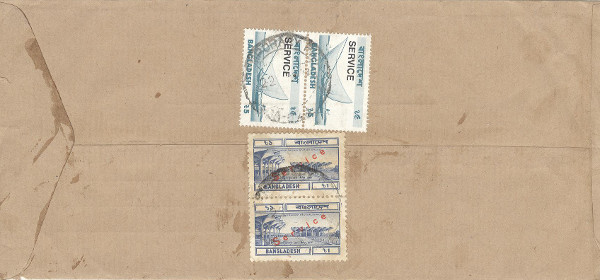 This cover was mailed from Civil Aeronautical Authority headquarters, Kurmitola, Dhaka, on 22-?-92 to the Airport Manager, Karachi Airport, Karachi, Pakistan. There are no receiving marks on the envelope.