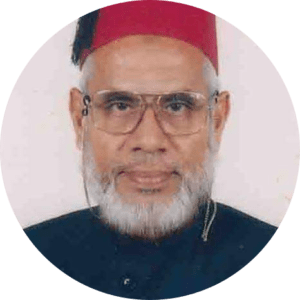 Mohammad Abdus Salam, abbreviated MA Salam is the successful organizer, guardian and a passionate philatelist philatelic field of Bangladesh.
MA Salam was born on 22 December 1941. He was inspired by the philatelic hobby of his elder brother. . His stamp addiction turned into a profession, when he opened a shop called Salam Stamp Center in Farmgate in 1962. First there was a the shop, bookstore, called 'Books and Books'.
After Bangladesh was liberated, after nine-months Liberation War, from 1972 to 1973, there was no postage stamps of Bangladesh were available, so, Pakistan postage stamps were used with Bangladesh imprint by rubber seals. But at that time no special shape or design or color of rubber seals was assigned to postmasters. So it appears that postmasters depended on the choice and availability of rubber seals i the local shops.
As a result hundreds of types of temporary rubber seals have been produced locally. Alhaj Abdus Salam traveled across the country to collect samples of the rubber seals, which later became a valuable asset of Bangladesh's national history.
In 1972, he established the first philatelic association of the country, Bangladesh Philatelic Society, which was no longer active.
Philatelist Association of Bangladesh (PAB) was formed in 1987 under his leadership. He was the founding president of this organization,
Alhaj MA Salam, the only philatelist who held two solo exhibitions of his collection in 1982 and 2005. In 2002 he established a private museum at his Madhya Badda residence.
Alhaj MA Salam left us on March 23, 2017 to the land of no return. But we believe he will live in our hearts through his activities, and will remain forever.