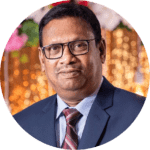 In the field of postage stamps of Bangladesh A T M Anowarul Quadir is a well-known name. He has a great inclination for philately.
He is the founder General Secretary of Philatelists' Association of Bangladesh (PAB)- the only registered philatelic organization of Bangladesh. He is also the Life Member of the association.
He was elected General Secretary of the association during 1987- 1988 and from 1990 he has been performing the duties of General Secretary till date. He is an honorary member of the Philatelic Advisory Committee and the Design Finalization Committee of the Department of Posts. Apart from this, he served as a research advisor for the first series of documentary films made on postage stamps in Bangladesh.
In his professional life, A T M Anowarul Quadir was a retired officer in the Audit department of the government.
A T M Anowarul Quadir was born on 29 May 1960 in Dhaka. His village home is Joginipasha village of Fultala Upazila of Khulna district. He is married and father of two sons.
A T M Anowarul Quadir has collected a very good number of autographed photos by correspondence of different Heads of State and Governments and renowned personalities of the country and abroad. He also collects postage stamps, souvenir sheets, First Day Covers and Special Covers. Apart from this, he collects regional newspapers of Bangladesh including the first issues of various newspapers.
A T M Anowarul Quadir spent his childhood in the present Saidpur Upazila of Nilphamari District of in Rangpur district. He started his education in the English-medium Anglo Pakistani Railways School Junior High School. He was given View cards and postage stamps as gifts for getting a 10 out of 10 in beautiful handwriting. And that is the beginning of his interest in postage stamps. However, during the Liberation War, his childhood collection was looted from his home and his morale was also destroyed.
In March 1972, when the then Prime Minister of India Indira Gandhi came to Dhaka after the independence of the country, she addressed a large public meeting from Indira Manch at Suhrawardy Udyan in Dhaka and A T M Anowarul Quadir was present in that public meeting with his father. She became one of his favorite personalities. He sent a letter to Indira Gandhi requesting her to send her autographed photograph. Within a month, he received the autographed photo. Then his interest grew and he started sending letters to heads of state and favorite personalities of various countries requesting autographed photos. The early response was good. Notable among his collections are Egyptian President Anwar Sadat, Yugoslavian President Marshal Tito, Indian Prime Minister Morarji Desai, Bangladesh President Justice Abu Syeed Chowdhury and Mohammadullah, American President Jimmy Carter, Saudi Arabia's King Khaled bin Abdul Aziz, British Prime Minister Harold Wilson etc.
He then focused on collecting stamps. His collection includes postage stamps from all the countries of the world. He collected Rabindranath Tagore, Roses Paintings of Kamrul Hasan in Yugoslavia Stamps on the Taj Mahal, World Cup Cricket, on Bangladesh and Bengali personalities, souvenir sheets, FDC, aerograms, envelopes, postcards, postmarks and meters franking cancellations. He has in his collection Most of the leading daily, weeklies of the country.
He has so far more than five hundred articles on philately in the newspapers and magazines of the country.
He is now serving as the editor of 'Bengal Post', the quarterly magazine of Philatelists' Association of Bangladesh (PAB).
One of his books on stamps, Shokher Raja Daktkit Songroho' was published in 2009. The book won an award 27th Asain International Stamp Exhibition CHINA 2011 in the literature category and was well-received in Calcutta, India. In the future, he wishes to organize a solo exhibition with all his collections.
On his initiative since 2003, the Philatelists Association of Bangladesh (PAB) started celebrating 29 July as Postage Stamp Day, the date of publication of the first postage stamp of Bangladesh and is now celebrated by different philatelic associations and organizations including the Ministry of Posts and Telecommunications.