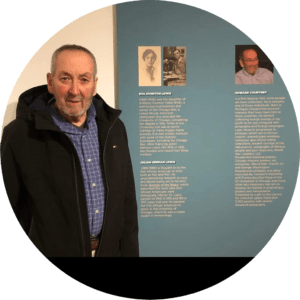 Robert Howard Courtney was born on April 20, 1938 in Port Huron, Michigan.
After graduation from high school, he attended Port Huron Junior College, a local two-year institution, earning an Associate of Arts degree. The then attended the University of Utah in Salt Lake City, Utah, majoring in Anthropology. After receiving his B.A., he hitch-hiked through the countries Central America for several months. He has visited 31 different countries and studied nine languages.
After returning to his home in Michigan he obtained a job teaching at Friend's Boys School in Ramallah, Jordan. Due to an infection from his travels through Central American he had to be admitted to the American University of Beirut Hospital in Beirut, Lebanon, where he spent two months as a patient. While in the hospital he was listed as terminally ill but through experimental efforts of the staff he survived and returned to Michigan to recover. The following year he taught at Spoon River Community College in Canton, Illinois. He then married and he and his wife travelled through Europe on to Bir Zeit University where he taught for a year. Returning to the U. S. and the University of Utah, he earned an M.A. in the Arabic language. He next attended the University of Chicago to work on a PhD in Persian Literature. He left without finishing the degree and worked as a parole agent for the State of Illinois. Due to the danger of the job he was able to retire at the age of 52. He was divorced in 1985.
He began collecting stamps about the age of 8 when shown a collection his mother had as a child. He started by collecting U.S. stamps and First Day Covers. As his interests changed, he added various topics to his collecting interests. His writing career started by editing and writing The Arab World Philatelist, which sold world-wide. He then compiled his catalog on Dubai as no catalog listed for the philatelic material. Through his chronic list-making his Bangladesh Stamp Catalog was written, and later his Revenue Stamps of Bangladesh. He has also written a catalog on the U.S. space theme postmarks and a book on the jazz posters and itinerary of the jazz group The Art Ensemble of Chicago.
Due to numerous interests he has collected antiques, ancient coins, Persian carpets, U.S. political posters, stained glass windows, ancient Middle Eastern pottery and has his collection of over 1300 original jazz posters in the University of Chicago Regenstein Library's Special Collections. He has had a life-long interest in Jazz and at one point had over 5,000 jazz CDs.
Mr. Courtney has always been a volunteer and has been on numerous boards and presidents of organizations. He sang in the Opera chorus of Opera Illinois for eleven years, was a hospice volunteer for eleven years, and has tutored and taught Spanish-speaking people learning English.
He currently lives 33 miles west of Chicago in Naperville, Illinois with his six cats.