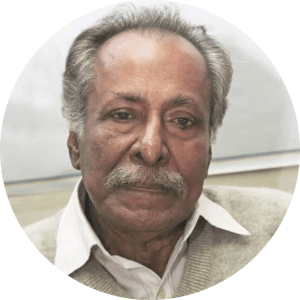 Kazi Golam Mustafa, was popularly known as KG Mustafa or just KG, is one of the leading postage stamp designer of Bangladesh. He earned his expertise in the field of applied art or graphic design in Bangladesh. Artist KG Mustafa completed his education with honors from Art College in 1964. After completing his education, he joined Pakistan Security Printing Corporation as a designer based in Karachi. Although he worked there with credit, the condescending attitude of the people of West Pakistan towards Bangla-speaking people troubled KG Mustafa.
He moved to Dhaka in 1967 and Joined an advertising firm. After the independence of Bangladesh, the country nedded to design its own coins and currency. At the request of his mentor eminent artist Patua Kamrul Hassan, KG Mustafa joined Bangladesh Bank to design the first coins and currency notes. KG Mustafa submitted two designs of 1 taka, 5 taka, 10 taka, and 100 taka.
After looking the designs of the notes and coins, the First Prime Minister our great leader Bangabandhu Sheikh Mujibur Rahman, the Finance Minister, Finance Secretary and Bangladesh Bank Governor, all praised his work. Artist KG Mustafa was assigned to go to London in 1972 by the government to supervise the printing these notes.
After designing the bank notes, he designed the first metal coins of the country. He made a total of 6 designs of 1, 2, 5, 10, 25 and 50 poisha. In 1973, the government sent him to East Berlin to supervise printing and minting of these coins.
Besides, he designed Non-judicial stamps, Court Fee stamps, Revenue Stamps, Savings Certificates, Prize Bond.
After the independence of the country, artist KG Mustafa designed a few hundred of commemorative postage stamps, as well as postcards, envelopes, aerograms, registration envelopes etc. All these stamps have gained fame in the country and abroad.
Born on September 25, 1943, Bangladesh Institute of Philatelic Studies (BIPS) published a book titled 'KG Mustafa and His Exceptional Designs' in 2008 about this reclusive artist. From this book ideas can be found in the designs created by the skilled hands of the artist. Patriotism, Bengali nationalism and his genuine love for the country of Bangladesh are present in each of his design works.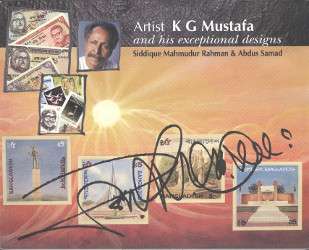 Rahman, Siddique Mahmudur and Abdus Samad, ARTIST K.G. MUSTAFA AND HIS EXCEPTIONAL DESIGNS. Published by Theme-O-Graph, Dhaka, Bangladesh, 2008, 72 pages plus cover. Softcover. ISBN 984-300-001644-9