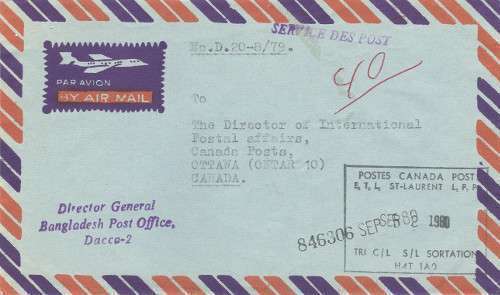 The cover above has a date typed on the front of 20-8-79, which is obviously an error as the Temporary P.O. cancellation on the back is dated the 23rd of August 1980. It is from The Director General, Bangladesh Post Office, Dacca-2, and addressed to The Director of International Postal Affairs, in Ottawa, Canada, but a regular airmail envelope was used. It was received in Canada on the 8th of September 1980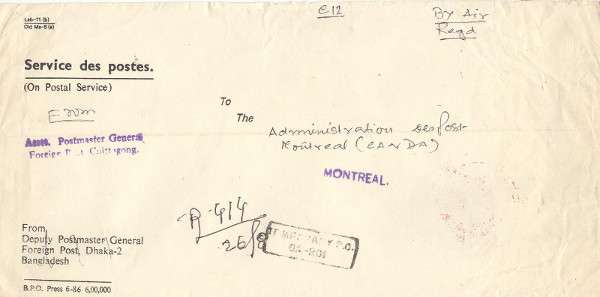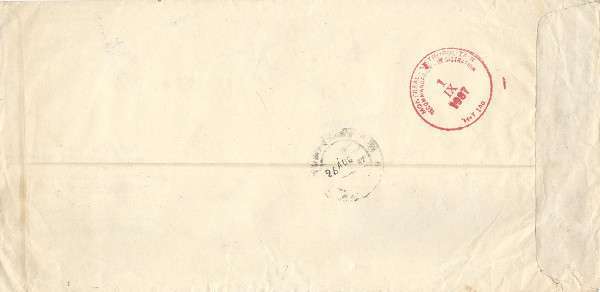 This registered letter was mailed from the Bureau de Post, Dhaka on 29 June 1987 to Montreal, Canada and has a red Montreal Metropolitan Registration receiving mark on the back, dated 6 July 1987.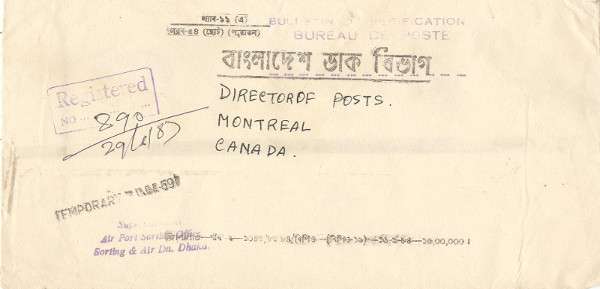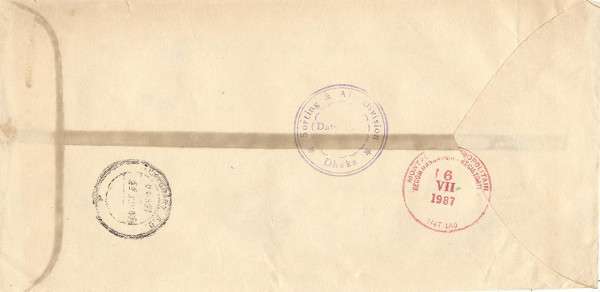 The above cover was mailed from Chittagong to Montreal, Canada on 26 August 1987 and has a red receiving cancellation on the back of 1 September 1987.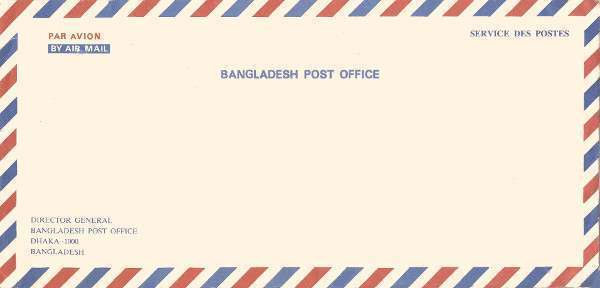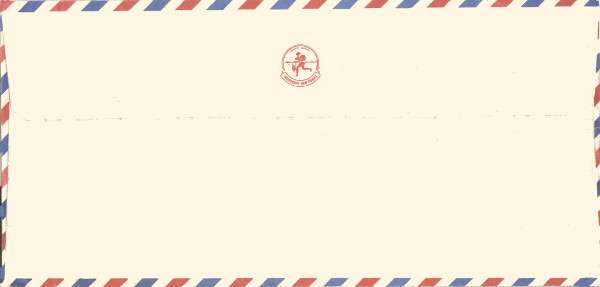 The above images are what a copy of the government envelope would look like in mint condition. These images were created using a photo program. Below is the actual envelop as it exists. The images were created to give collectors a better idea of what the envelope would look like without all the markings.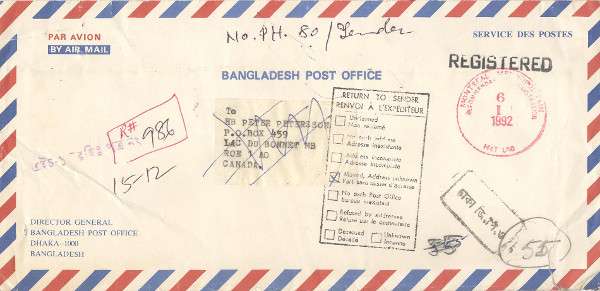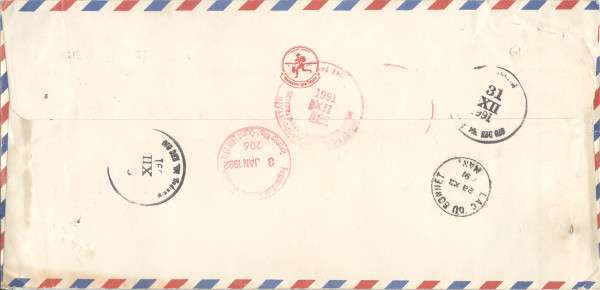 This envelope was sent REGISTERED mail from Dhaka to Lac du Bonnet, Manitoba, Canada, on 15 December, 1991. Several of the postmarks are unreadable, but there is a large red postmark (On the logo) dated 22 December, 1991, indicating receipt of a registered item. There is a Winnipeg, Canada postmark for sometime in December of 1991 (Left side of envelope). It appears to have a date starting with a "2" in December of 1991. It reached Lac du Bonnet on December 23, 1991 (Bottom right) and could not be delivered as the recipient had moved. There is a Winnipeg, Canada postmark for 31 December 1991 (upper right), a (Red, upper center) postmark for Toronto, dated 3 January 1992, and on the front of the envelope is a 9 January 1992 postmark from Montreal. There is no indication when it was returned to Dhaka.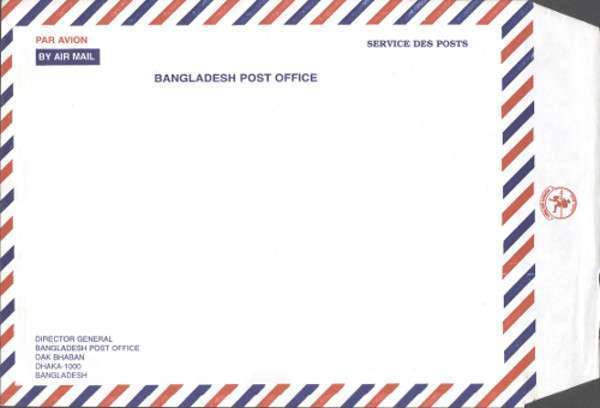 This large government envelope is for overseas mailing. It is not made available to the public.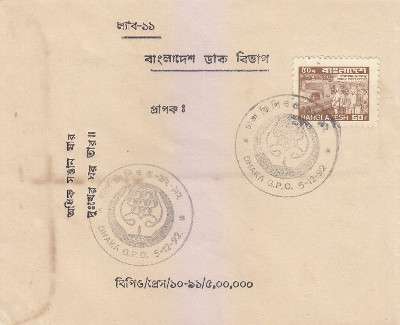 The above illustration is a government envelope that someone used and had the FDC cancellation for the 5 December 1992 – 7th South Asian Association for Regional Co-operation Summit Conference (SAARC), Dhaka, stamp applied to it. Items like this are very confusing for collectors as one does not know what they are, or why they were created. If one had a collection of every FDC cancellation on this type of envelope,it woulod be an interesting collection. The problem is that it is almost impossible to create such a collection and then one has random envelopes with the cancellations that one does not know what to do with.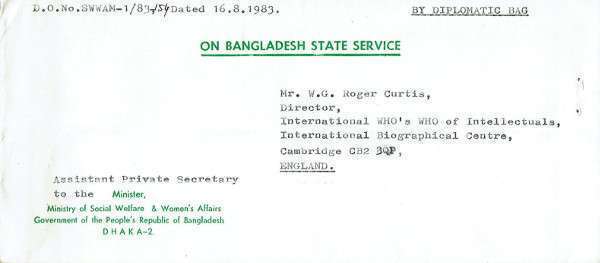 Mail carried in a diplomatic bag, rather than being sent through the mail.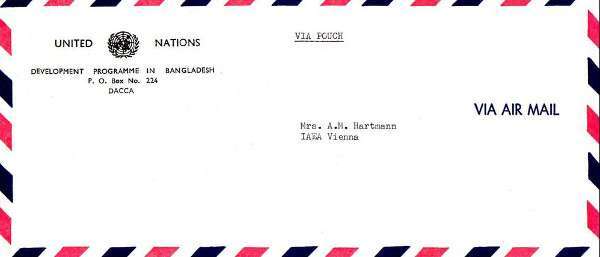 A cover carried in a UN pouch, rather than being sent through the mail.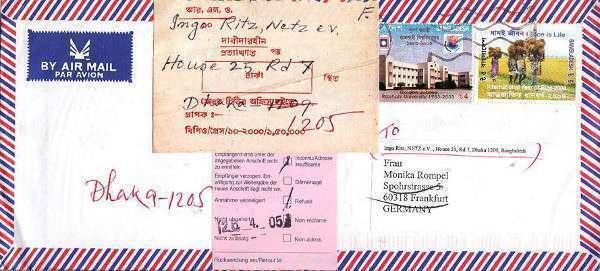 This sticker was applied to unclaimed mail. The cover was sent from Bangladesh to Germany. It was returned and not claimed by the sender.